Mourinho at Chelsea doctor's employment tribunal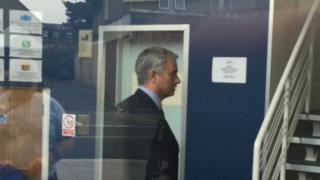 Ex-Chelsea manager Jose Mourinho has attended the employment tribunal of the football club's former first-team doctor.
Eva Carneiro is claiming constructive dismissal against the club and is also bringing separate legal action against new Manchester United boss Mourinho.
His arrival at the hearing came as a surprise as he is not expected to give evidence until next week.
On Monday it emerged Chelsea offered Dr Carneiro £1.2m to settle her claims.
Dr Carneiro claims that she was the victim of sexual discrimination after she went on to the pitch to treat injured Chelsea player Eden Hazard during a match against Swansea on the opening day the Premier League season last August.
It meant the Chelsea player had to leave the pitch, briefly leaving the team with only nine men at what Mr Mourinho claimed was a crucial stage in the game.
Chelsea went on to draw 2-2 with Swansea and Mr Mourinho publicly criticised both Dr Carneiro and first team physio Jon Fearn for being "impulsive and naive".
Dr Carneiro was dropped from first-team duties and later parted company with Chelsea.
She claims that Mourinho shouted the Portuguese phrase "filha da puta" at her, which means "daughter of a whore", as she ran on to the pitch.
Mourinho has conceded that he used the term, but insisted he had been using it throughout the match.
Mary O'Rourke QC, acting for Dr Carneiro, told the Tribunal on Monday: "He [Mourinho] uses the word 'filha' because he is abusing a woman."
Dr Carneiro also alleges that on 10 August last year Mourinho told Steve Atkins, head of communications and PR at Chelsea, that he did not want Dr Carneiro on the bench at the next match, adding: "She works in academy team or ladies team, not with me."
The hearing continues.