'Sisters' jailed for part in £4m benefit fraud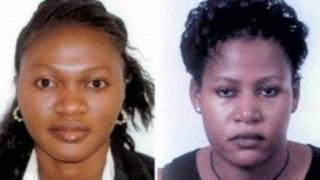 Two women who pretended to be sisters have been jailed for their part in a £4m benefit claims fraud.
The women, known under the assumed names of Antoinette and Louise Kaidi, were responsible for claiming hundreds of thousands of pounds in benefits through false identities.
They were each sentenced to 33 months in prison after previously pleading guilty to 23 counts of benefit fraud.
Both women claimed to be from Togo, but their true identities remain unknown.
The convictions are part of a wider investigation into a benefit fraud that could be as large as £4m, judge John Tanzer said.
Antoinette, of Oxford Road, Enfield, qualified as a nurse after using her identity to fund her training, while Louise, of Springfield Road, East Ham, enrolled in a nursing course at London South Bank University.
Jury 'laughing'
The pair pleaded guilty six days into their trial in March after the jury began "laughing" at their defence, the court heard.
They were convicted of offences committed between 2003 and 2015, including fraud, conspiracy to assist in unlawful immigration and dishonesty in making a false statement or representation with a view to obtaining benefit.
The Kaidis assumed "ghost identities" in order to defraud the NHS and Department of Work and Pensions of thousands of pounds in training and bursary costs, as well as tax credit and income support payments.
Louise claimed around £270,000 while Antoinette obtained £290,000, which included her earnings while working as a nurse.
Mystery
Despite both women claiming to be from Togo it is believed Antoinette is of mixed Nigerian-Ghanaian heritage, while Louise is Ugandan - although prosecutor Caoimhe Daly admitted their true identities remained a mystery.
Judge Tanzer said the women had only admitted their crimes six days into their trial in the face of a jury who did not appear to believe their stories.
Addressing the women, he said: "Antoinette, you were giving evidence with a jury laughing at the attempts by you to say that you were not aware of your real identity."
He added: "These are not victimless offences. They are offences the community feels very strongly about."
Both Antoinette, a mother-of-two, and Louise, a single mother-of-three, cried as they sat in the dock at Croydon Crown Court.