Second fire in a week at Wandsworth recycling centre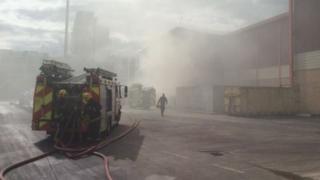 A recycling centre in Wandsworth has gone up in flames for the second time in a week.
Firefighters are telling people living near Smugglers Way to close their doors and windows to avoid inhaling smoke.
About 80 firefighters are tackling the blaze, which comes five days after a previous fire at the site.
Station manager Darren Levett said: "The fire is very visible and is producing a lot of smoke which can be seen for miles around."