The making of the London 2012 Olympics opening ceremony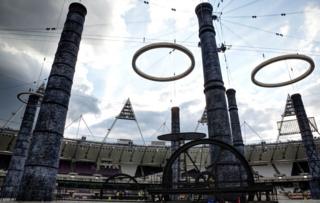 Four years ago, Danny Boyle unveiled his opening ceremony for the London 2012 Olympic Games.
Isles of Wonder was based on the transformation of Britain, from a "green and pleasant land" to the internet era, via the industrial age.
A cast of 10,000 volunteers were involved in the memorable £27m show, which featured farmyard animals, several Voldemorts and even James Bond.
Its creation was captured by Ben Delfont, a stage manager for the event.
---
The opening ceremony in numbers
1,100 automated lamps
One million watt sound system with 500 speakers
50 tonnes of sound gear
15,000 sq m of staging
12,956 props
24,570 costume buttons for one of opening sequences
---