East London teenage drug dealer guilty of 'brutal murder'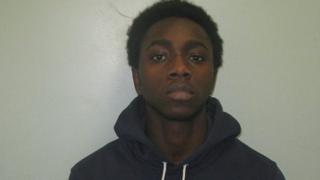 A teenage drug dealer has been found guilty of a "brutal murder" at a park in east London.
Kaleb Amponsah, 18, of Canning Town, east London, was convicted of stabbing to death 27-year-old Ade Afariogun in January this year.
Mr Afariogun was stabbed after Amponsah "stared angrily at him" in Plaistow Park, Newham, the Old Bailey heard.
Amponsah is due to be sentenced in August and was warned he faces a lengthy prison sentence.
'Devastated' family
The court heard how Mr Afariogun had gone to the park to meet some friends when Amponsah arrived.
Prosecutor Oliver Glasgow QC said Amponsah "had ridden to the park on a bicycle and he had gone there to sell drugs."
"Once there, Kaleb Amponsah cycled past Ade Afariogun on several occasions and, for a reason that no one could understand, he stared angrily at him, as if trying to provoke a reaction," he said.
As Mr Afariogun was leaving the park, Amponsah stopped his bike in front of him and a scuffle followed.
Amponsah then produced a large knife and stabbed Ade Afariogun in the stomach and turned and fled, the court heard.
Mr Glasgow said Amponsah returned home to change his clothes and later met up with a friend "casually returning to the business of selling drugs as if nothing had happened."
"There was nothing that Ade Afariogun said or did to cause the defendant to fear for his safety."
"The attack was exactly that, an attack, and there is nothing that this defendant can say that can excuse the brutal murder that he committed," Mr Glasgow said.
Mr Afariogun was rushed to hospital but died in the early hours of 1 February 2016.
In a statement read to the court, the victim's stepfather, Kay Oluwa, said how the incident had "devastated" the family.