London conservationist to fly across 11 countries with migrating swans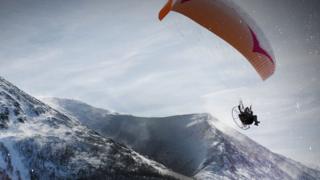 A conservationist is set to trail migrating swans across 11 countries in a paramotor to find out why Europe's smallest swan is in rapid decline.
Sacha Dench, from the London Wetland Centre in Barnes, will follow thousands of Bewick's swans on their annual journey from Russia to the UK.
Between 1995 and 2010 the numbers of swans have plummeted from 29,000 to just 18,000.
She said the aim was to find out why there had been such a rapid decline.
"We've been researching them for about 50 years and looking back at that data we know of single threats - hunting, powerlines, led poisoning from pellets - but a single threat is not enough to cause this decline, so this mission is to see if there's anything we're missing," she said.
Starting in September at the Bewick's summer breeding grounds in high arctic Russia she will follow the route of seven swans, which have been tagged, enabling her to track their journey and follow from a distance.
Her route will take her more than 7,000km (4,350 miles) through Finland, Estonia, Latvia, Lithuania, Poland, Germany, Denmark, Netherlands, Belgium, France and back to the wetlands centre in Slimbridge.
Ms Dench said she was "fascinated" by the swan and was concerned plans to write letters to raise its plight was "not going to work fast enough" so set about organising something "drastic".
She said: "Different countries have different priorities so I thought we could harness the amazing story of the birds to get people excited. No matter where I land, particularly as a lone female, people ask me - where do you come from? What are you doing?
"We're banking on the fact people generally want to help."
The paramotor will enable Ms Dench to fly for three hours at a time and travel at the same height as the swan, enabling her to face the same dangers and see if there is a threat they have not identified before.
Accompanied by a paramotorist from each country she travels through to help with translation, she will carry basic food and rely on catching fish and eating berries and mushrooms for sustenance to ensure the weight on the paramotor is kept down.
It is believed to be the first attempt to follow the migration of the Bewick's swans from the air.