Two Mayors: Similar backgrounds and similar aims to tackle pollution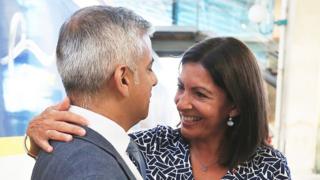 The mayors of London and Paris have aligned themselves as allies - but do their views on how to tackle pollution differ?
I spent an extremely interesting day watching and talking to the mayors of Paris and London.
Anne Hidalgo and Sadiq Khan have similar backgrounds.
We were told both have mothers who were seamstresses, both come from the immigrant families and both have a politically similar world-view.
They both also want to tackle pollution that is blighting their cities and causing thousands of premature deaths.
Temporary beach
There are differences in their approach; Paris seems to be further down the road in introducing anti-pollution policies.
On Thursday there was a high ozone episode in Paris so the mayor ruled that residential parking charges should be suspended for that day - meaning it would be free to leave cars at home - to try and encourage Parisians to use public transport.
Other measures they have taken include banning all vehicles pre-1997 from the city centre.
The authorities also have further powers to ban cars with certain number plates if there is a pollution episode.
Ms Hidalgo has pedestrianised many roads along the Seine to create the Paris Plage, a temporary beach along the river each summer.
In London, there are also plans to pedestrianise areas like Oxford Street and Tottenham Court Road. Other European cities have similar plans.
Here we have a Low Emission Zone with plans for an Ultra Low Emission Zone in 2019 and a "toxicity" charge on top of the congestion charge prior to that.
Broadly speaking, vehicles registered before 2005 will have to pay £11.50 to enter Central London.
It is hard to believe that pollution would have been so high on the agenda at a similar meeting of mayors five or ten years ago.
What is extremely striking is both of these mayors now see anti-pollution policies as populist and vote winners.
The challenge now for the Mayor of London is delivery, whereas in Paris stronger restrictions are already in place.