Woman raped at knifepoint in Islington after she stopped to give man change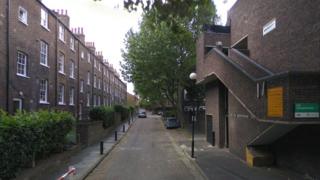 A woman in her late 50s was raped by a man at knifepoint after she had stopped to help him by giving him some change.
The woman was walking in Islington, north London, before midnight on Thursday night when she was confronted by the man who asked for money.
He pushed her into Heddingham Close where he pulled out a knife and raped her. He then took valuables from her bag and fled.
Police said it was "a horrific attack" on a woman who had "helped a stranger".
The woman was taken to a specialist care unit but had been left "very traumatised" by the attack, Det Con Sarah Hunter said.
The attacker is described as a dark-skinned black man of medium build, between 5ft 4in and 5ft 6in tall, and aged between 30 and 40.