London attack: What we know so far
Eight people were killed in central London when three attackers drove a van into pedestrians on London Bridge and launched a knife attack in Borough Market on Saturday, 3 June.
The attackers were shot dead by officers, who arrived on the scene of the attack within eight minutes. Here is what we know.
What happened?
At 21:58 BST on Saturday, a van with the three attackers inside drove on to London Bridge from the north side of the river. It crossed over, before returning in the opposite direction six minutes later.
When it reached the northern end of the bridge, police said it made a U-turn and mounted the pavement. It then crossed the bridge again, running over pedestrians, including three of the people who died.
Xavier Thomas, walking with his girlfriend, was hit by the van, the force apparently knocking him into the river. His body was later found downstream.
BBC reporter Holly Jones, who was on the bridge at the time of the attack, said the van was "probably travelling at about 50 miles an hour".
"He swerved right round me and then hit about five or six people," she said.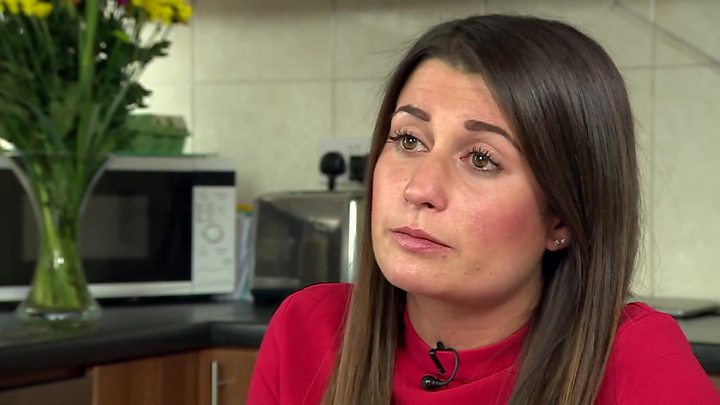 After crossing the bridge, the van crashed near the Barrowboy and Banker pub. Three men got out, armed with 12in (30cm) pink ceramic knives tied to their wrists, and ran towards Borough Market, slashing and stabbing people in their path.
Ambulances were called at 22:07 with police alerted at 22:08. Meanwhile, as the attackers moved through Borough Market, some people tried to fight them off by throwing crates, chairs and glasses.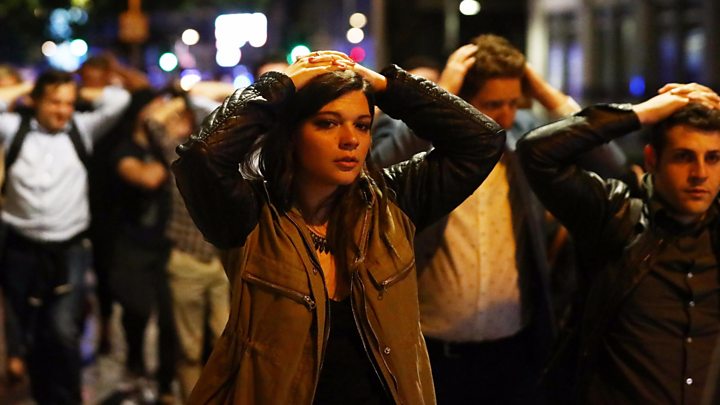 One witness to the attack, Gerard Vowls, told the BBC: "They were running up shouting, 'This is for Allah'. They stabbed this girl maybe 10 times, 15 times."
Police arriving on the scene started to evacuate the area or make sure nearby pubs were locked down to stop the men getting in. Four police officers were hurt.
A British Transport Police officer was seriously injured when he confronted the attackers outside London Bridge station armed only with his baton.
An off-duty Metropolitan Police officer was also seriously injured having rugby-tackled one of the attackers.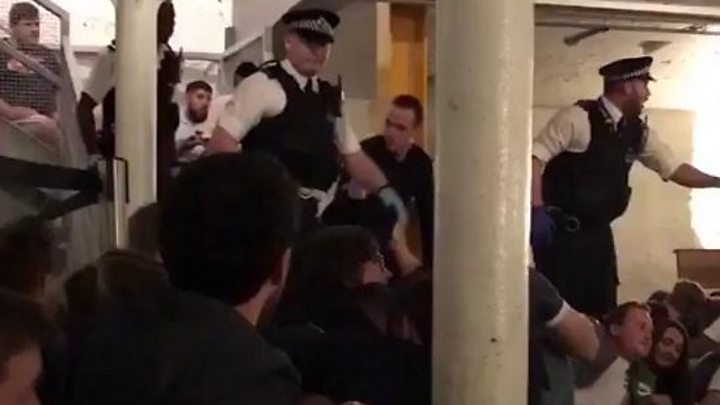 The three men were seen attacking a man outside The Wheatsheaf pub on Stoney Street when armed police arrived at 22:16. They shot and killed all three men, who were wearing what turned out to be fake bomb vests.
The deputy chairwoman of the Independent Police Complaints Commission, Sarah Green, confirmed that 46 shots had been fired by eight police officers - three officers from City of London Police and five from the Metropolitan Police.
A member of the public was also shot during the operation and was taken to hospital.
London Ambulance Service took more than 100 emergency calls about the incident.
The so-called Islamic State group later said it was behind the attack.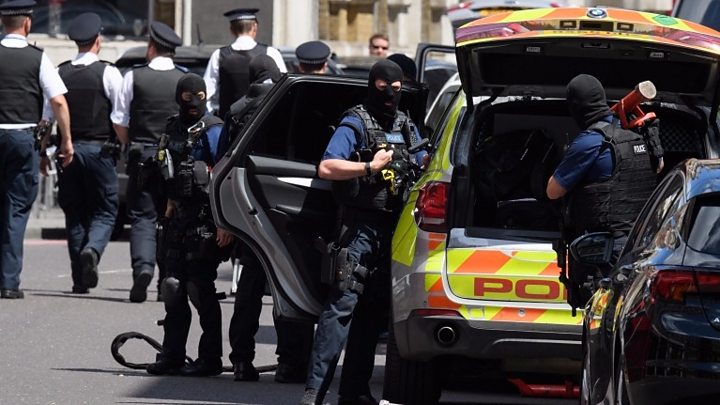 The victims
Eight people were killed in the attack.
They have been named as 30-year-old Canadian national Chrissy Archibald, Australian Kirsty Boden, 28, Australian Sara Zelenak, 21, James McMullan, 32, from Hackney, London, French nationals 26-year-old Alexandre Pigeard, Xavier Thomas, 45, and chef Sebastien Belanger, 36, and Spanish national Ignacio Echeverria, 39.
Forty-eight people were injured.
London hospitals are continuing to treat 29 of the victims; 10 are said to be in a critical condition.
The attackers
The three attackers have been named:
Khuram Shazad Butt, 27, a British citizen born in Pakistan
Rachid Redouane, 30, who had claimed to be Moroccan and Libyan
Youssef Zaghba, 22, a Moroccan-Italian man
Butt and Redouane - who also used the name Rachid Elkhdar - lived in Barking, east London, and Zaghba was from east London.
Butt worked in an administrative role for Auriga Holdings - which manages Kentucky Fried Chicken outlets - and he had also worked for London Underground for just under six months as a trainee customer services assistant, before leaving in October 2016.
The investigation has concluded that he was the ringleader, hiring and driving the van used in the attack.
Butt became known to the police and MI5 in the summer of 2015 and an investigation was opened into his behaviour after concerns reached counter-terrorism officers.
One man called the anti-terrorism hotline, while a woman went to the local police station because she was scared Butt was trying to radicalise her children.
However, the Met said there was no intelligence to suggest that this attack was being planned, meaning the investigation had been "prioritised accordingly".
Butt also once featured in a Channel 4 documentary about Islamist extremists with links to the jailed preacher Anjem Choudary and appeared arguing with police on the street.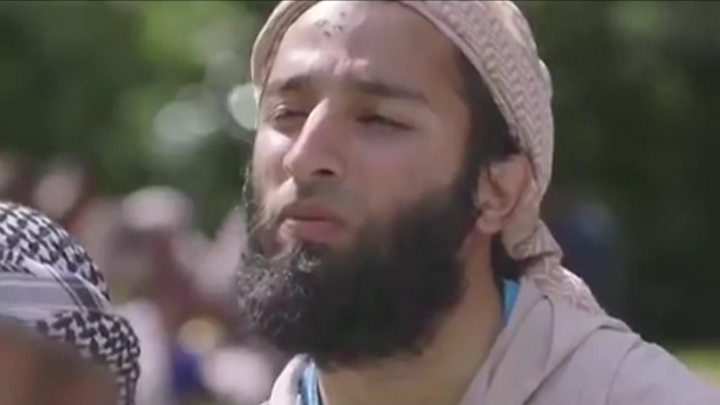 Redouane, who was a chef, was not known to police or security services.
Sources in Dublin said Redouane was understood to have been carrying an identification card issued in the Republic of Ireland when he was shot dead, the Press Association reported.
Irish Prime Minister Enda Kenny said he had not been a member of a "small group" being monitored by Irish police in respect of radicalisation.
Zaghba had been placed on a watch list shared with many countries - including the UK, an Italian police source told the BBC.
In March 2016, Italian officers stopped him at Bologna airport and found IS-related materials on his mobile phone.
He was then stopped from continuing his journey to Istanbul.
The chief of Italian police has said he has a "clear conscience" over the actions his force took.
The Home Office has not commented on the case.
Police said the three men had tried to hire a seven-and-a-half tonne lorry to carry out the attack, but they had failed to provide payment details and the vehicle was not picked up.
This prompted them to use a smaller van from a DIY store instead.
In the back of the van police found wine bottles filled with flammable liquid with rags tied to their necks, along with blow torches to light the "Molotov cocktails".
The van also contained bags of building gravel and several chairs - possibly to suggest a reason for having hired it.
Police said one of the men arrested since the attacks had rented a house in Barking, east London, to use as a safe house.
It contained a copy of the Koran opened at a page describing martyrdom, along with equipment for making petrol bombs, plastic bottles and duct tape for constructing fake suicide bomb vests, and an ID card for Redouane.
Forensic work at this flat has determined that the three attackers worked alone, police said.
In total, 21 people have been arrested by police investigating the attack, 13 buildings have been searched and 282 witnesses in 19 countries have been questioned. Seven people remain in custody.