London fire: What we know so far about Grenfell Tower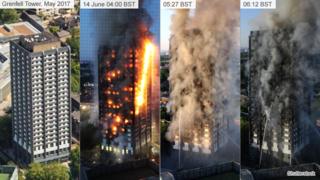 At least 79 people are missing and presumed dead after a huge fire engulfed a west London tower block in the early hours of Wednesday.
---
What happened?
The fire was reported at the 24-storey block, Grenfell Tower, in North Kensington, 00:54 BST on Wednesday.
Forty fire engines and more than 200 firefighters went to tackle the blaze.
The fire affected all floors of the building, from the second floor up.
Firefighters worked with the gas authority to isolate a ruptured gas main in the block.
Once it was completed, they were able to extinguish the fire with the help of a 40-metre aerial appliance.
The blaze was under control by 01:14 BST on Thursday.
---
How many victims are there?
A total of 79 people are either dead or missing presumed dead, police said.
The names of five victims have been confirmed by police.
Metropolitan Police Commander Stuart Cundy said there was "a risk that sadly we may not be able to identify everybody".
Firefighters rescued 65 people from the building, according to the London Fire Brigade. Others made their own way out.
London Fire Commissioner Dany Cotton said a "number" of firefighters had suffered minor injuries.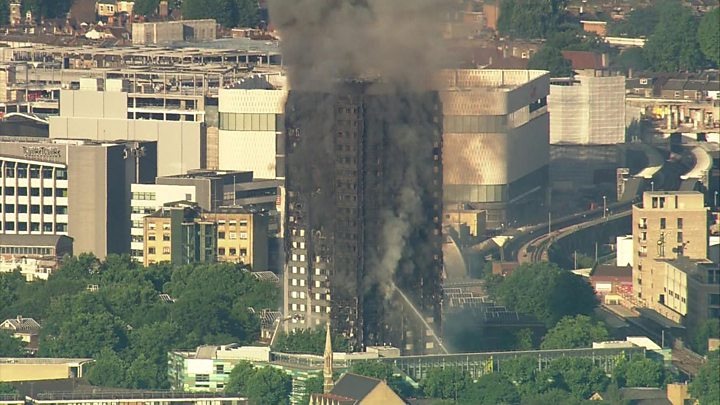 Notting Dale ward councillor Judith Blakeman, who lives across the road from the block, said between 400 and 600 people lived in the building.
London Mayor Sadiq Khan said fire crews only managed to reach the 12th floor at the height of the fire.
---
What caused the fire?
It is not yet known what caused the fire.
Footage has shown the fire spreading up one side of the building externally, before engulfing the entire block.
Fire safety expert Elvin Edwards described it as a "chimney effect", adding that the wind would have fanned the flames.
The cladding - installed on the tower in a recent renovation - has come under scrutiny, with experts saying a more fire resistant type could have been used.
Cladding can create cavities which in some cases can cause the chimney effect, drawing flames up the cavity if there are no fire barriers.
The Department for Communities and Local Government said composite aluminium panels with a polyethylene core should not be used as cladding on buildings over 18m high.
Engineering and manufacturing company Arconic later said one of its products, Reynobond PE (polyethylene) - an aluminium composite material - was "used as one component in the overall cladding system" of Grenfell Tower.
The BBC has established that Reynobond PE was issued a certificate in the UK in 1997, allowing it to be used on high-rise buildings.
An inquiry into whether it did in fact meet fire safety regulations is due to be published by the weekend.
Matt Wrack, of the Fire Brigades Union, said something had clearly gone badly wrong with fire prevention procedures at the building.
How are fires fought in high-rise blocks?
---
Where is the tower block?
Grenfell Tower is on Latimer Road, in west London.
It is part of the Lancaster West Estate, a social housing complex of almost 1,000 homes, in the borough of Kensington and Chelsea.
It is in a neighbourhood ranked among the most deprived 10% in England.
The tower block is near Westfield shopping centre in White City and the A40 - a major route for traffic entering and leaving the west of London.
---
What do we know about Grenfell Tower?
Grenfell Tower was built in 1974 by Kensington and Chelsea London Borough Council.
An £8.6m refurbishment - which was part of a wider transformation of the estate - was completed by Rydon Construction in May last year. Work included new exterior cladding, replacement windows and a communal heating system.
There was also extensive remodelling of the bottom four floors, creating seven additional homes, and improvements to communal facilities.
Plans for the development show how the building was modified and the single stairway.
Rydon said it was "shocked to hear of the devastating fire", adding that the work "met all required building control, fire regulation and health & safety standards".
It later issued a new statement, removing the previous mention of the building meeting fire regulation standards, instead saying the project met "all required building regulations".
The tower is managed by the Kensington and Chelsea Tenant Management Organisation (KCTMO) on behalf of the council.
In its latest statement, it offered its "sincere and heartfelt condolences" to those affected by the "devastating event" at Grenfell Tower.
It said its immediate concern and focus was working with the council to assist the residents of the tower block and those affected by the tragedy.
Grenfell Tower, North Kensington
127 flats

24 storeys

20 residential levels

4 mixed levels of community areas and residential flats

2016 refurbishment completed
AFP
---
How safe was the tower block?
The local Grenfell Action Group had claimed, before and during the refurbishment, that the block constituted a fire risk and residents had warned that access to the site for emergency vehicles was "severely restricted".
In February 2013 residents warned fire safety equipment, including fire extinguishers, had not been tested for 12 months.
KCTMO said it was aware that concerns had been raised historically by residents and they would form part of its investigations.
The tower block was given a medium fire risk rating - defined as a normal fire risk - in 2016 following completion of the refurbishment by the London Fire Brigade and Kensington and Chelsea London Borough Council.
The council insists the block has been regularly inspected, but London Mayor Sadiq Khan said safety and maintenance issues would have to be looked at.
Concerns raised about Grenfell Tower 'for years'
Geoff Wilkinson, a fire and building inspector, told the BBC that the Grenfell Tower block "didn't perform in the way you'd expect a building to perform" once it caught fire as "you'd expect it to be contained to an individual apartment".
"Something has gone dramatically wrong here," he said.
The fire safety advice for Grenfell Tower residents was to "stay put" - unless the fire was affecting their own flat.
David Sibert, Fire Brigade Union fire safety expert, said: "The principle that tower blocks are built on is that every flat is a fire-resisting box - every flat is completely surrounded by fire-resisting construction from the rest of the building.
"So you should be able to set fire to your own flat and leave it to completely burn out and it won't affect anybody else in the building."
Six questions for the investigation
---
What did witnesses say?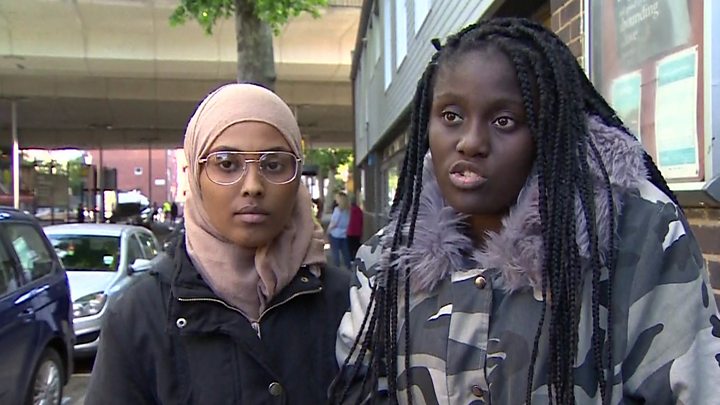 Eyewitnesses said they saw people trapped inside the burning building screaming for help, and shouting for their children to be saved.
Some said they saw lights - thought to be mobile phones or torches - flashing at the top of the block of flats, and trapped residents coming to their windows - some holding children.
Eyewitness Jody Martin said: "I watched one person falling out, I watched another woman holding her baby out the window... hearing screams."
Tiago Etienne, 17, saw small children being thrown out of the building from as high as the 15th floor.
Paul Munakr, who lives on the seventh floor, managed to escape. But he said he was alerted to the fire not by fire alarms but by people on the street below, shouting "don't jump, don't jump".
Grenfall Tower witnesses recall harrowing night
---
How people are helping
Churches, community centres and football clubs have been inundated with donations of clothes and toiletries for those affected - many of who were forced to escape the burning building in their night clothes.
More than £1m has been raised to help those affected by the fire, with more than 60 tonnes of donations collected by one local mosque.
The majority of the centres have requested locals hold off sending down any more donations until further requests are made.
A number of individuals have also reached out via Facebook, Twitter and Instagram to offer accommodation and transport help.
Read more about what you can do to help
On 20 June, Kensington and Chelsea Council said £333,680 had been distributed to 314 people affected by the attack. It added that the Department of Work and Pensions (DWP) was providing a one-off £5,000 payment to affected households, and 40 households had received this payment.
Some households are being temporarily housed in hotels and the council said in a statement: "We have endeavoured to keep accommodation as local as possible."
Get news from the BBC in your inbox, each weekday morning
Are you in the area? Did you witness the events? Email haveyoursay@bbc.co.uk with your stories. Do not endanger yourself.
Please include a contact number if you are willing to speak to a BBC journalist. You can also contact us in the following ways: