Murder arrests over burned body in Southfields garden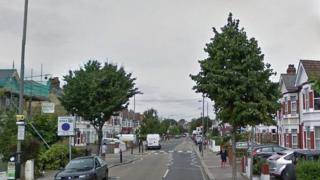 A man and a woman have been arrested on suspicion of murder after a badly burned body was discovered in the garden of a south-west London home.
Police and fire crews were called to Wimbledon Park Road shortly before 18:30 BST on Wednesday after receiving reports of a fire at the property.
The body, which was too charred to work out the gender and age of the person, was found in the rear garden.
Police said it appeared "attempts were made to dispose of the body".
Det Insp Richard Leonard said detectives were "doing everything we can to identify the deceased".
A 40-year-old man and a 34-year-old woman were arrested at the house and are in custody at separate south London police stations.
Supt Peter Gardner said local police officers "will be patrolling in and around the area to help reassure residents".