Finsbury park toddler death: Father given indefinite hospital order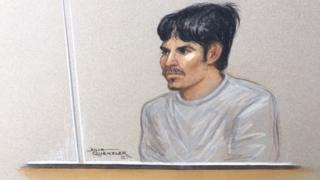 A man who killed his 16-month-old son with a hammer after he became obsessed his partner was being unfaithful has been locked up indefinitely.
Bidhya Sagar Das, 33, killed Gabriel Sonu Bibekas at their home in Finsbury Park, north London, on 18 March.
The Old Bailey heard he had become consumed with jealousy over suspicions Christinela Datcu was cheating on him.
Das had admitted manslaughter by diminished responsibility and the attempted murder of another child.
Father killed toddler son with hammer
On the night of the killing he had told Ms Dactu "it's going to be a special night".
While she was in the shower he attacked Gabriel with a claw hammer, leaving him with multiple skull fractures.
A young girl, who cannot be identified for legal reasons, was also left with lifelong medical problems having suffered "terrible head injuries", the court heard.
Das later called police and confessed, saying: "I did very bad."
The Old Bailey heard psychiatrists had all concluded he was suffering from a "severe delusional disorder of a jealous type" at the time of the killing.
Mr Justice Spencer told the 33 year old it was "a vivid indication of the measure of your paranoia obsession that when you and she slept together you would... tie her underwear to yours to make sure she could not get out of bed without your knowing".
The judge gave him a hospital order with restrictions without limit of time.
"You know that what you did that night in the flat was very wrong. You have inflicted untold grief and pain," he said.
In a statement Ms Datcu said the "future seemed wonderful" but since the attack she had felt "like a robot".
"I live with the thought if ever free, he would come to finish what he started that day and kill me," she said.