Domestic abuse 10% of London crimes, figures show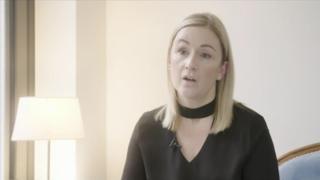 Domestic abuse accounts for one in ten offences recorded in the capital, London Assembly figures show.
A cross-party group from the authority has called on the government to create a register of convicted domestic abusers.
The assembly figures also show there has been a 15% increase in domestic abuse victims from 2014 to 2016, with four in 10 survivors repeat victims.
However spending on domestic abuse services in London has fallen.
Zoe Dronfield was assaulted by her ex-boyfriend, suffering 15 different injuries in the attack, including knife wounds.
"I just remember thud, thud, thud, raining down on my head," she said.
Jason Smith, from Coventry, was sentenced to 10 years in jail in 2015 for attacking Ms Dronfield.
After he was convicted, 13 other woman came forward saying they had been victims of controlling behaviour from Mr Smith.
'Known to police'
Ms Dronfield, from Coventry, is now campaigning for a register of domestic abusers.
"He was known to the police, it was the same force for all of those victims, and they never picked up this pattern and escalation," she said.
The London Assembly began its campaign for a register after five-year-old Alex Malcolm was beaten to death by his mother's partner, a serial domestic abuser, last year.
Its figures show a 38% fall in spending by London boroughs on domestic abuse services between 2010 and 2016.
Len Duvall, Labour Assembly Member for Lewisham, said: "Domestic violence and abuse is increasing. We need something extra to give some added strength to help police manage offenders, and also to manage the risks."