Finsbury Park murder victim named as Iuliana Tudos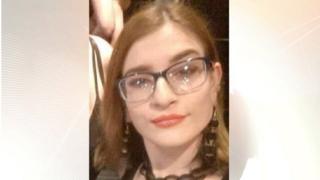 A woman was murdered in a public park on her way home on Christmas Eve, police have said.
The body of Iuliana Tudos, 22, was found in an outbuilding near the sports ground in Finsbury Park, north London, at about 16:30 GMT on Wednesday.
Scotland Yard said she died from a stab wound to the abdomen and a head injury. No arrests have been made.
The barmaid was last seen at about 20:00 on Sunday as she headed for a bus home from Camden.
She was pronounced dead at the scene.
Ms Tudos, who police said was of Russian and Greek origin, was due to meet at a friend's home in Enfield later that evening before spending Christmas Day there.
However, she never arrived and a missing person appeal was launched by Scotland Yard.
A member of the public found Ms Tudos's body, police said.
Det Ch Insp Nicola Wall said: "Iuliana's body was discovered in an outbuilding next to a sports pitch."
"We believe that she may have been attacked on Christmas Eve but we want to hear from anyone who saw anything suspicious in that part of Finsbury Park over the Christmas period."
On Thursday, an area of the north-east corner of Finsbury Park, close to a baseball pitch, was cordoned off and forensics officers marked out what appeared to be clothing scattered on the grass.
Ms Tudos's home in nearby Upper Tollington Park was also searched by police.