Grenfell: Firefighters to run London marathon for children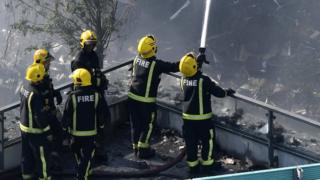 The first fire crew to arrive at the Grenfell Tower fire are running the London Marathon to raise money for children affected by the tragedy.
Nine firefighters from North Kensington fire station have set themselves a target of £10,000.
The fierce fire took hours to put out, and claimed the lives of 71 people.
The money will go to Kids on the Green, a volunteer organisation set up in the aftermath of the fire.
The group's director said she was "honoured and blessed".
Hundreds of emergency responders risked their lives to battle the catastrophic fire, facing blistering heat, darkness and smoke-clogged hallways to rescue residents from the 24-storey tower.
David Badillo, 44, has been a firefighter in the area for 18 years and will be one of those running the marathon on 22 April.
He said: "The heartbreak will never go away but we want to help heal and rebuild, starting with the children so badly affected by the tragedy."
Founder and director of Kids on the Green, Zoe Levack, said: "We feel quite emotional about it because the fire brigade are heroes in our eyes.
"It's really exciting and we've got nothing but love and support for them."