London allotment death: Murder accused 'threatened to kill fellow plot holder'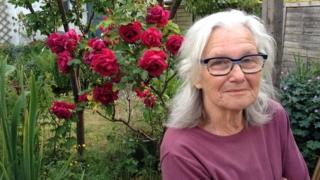 A "volatile" allotment holder threatened to kill a man who strayed on to his plot years before he murdered an elderly widow, a jury has been told.
Rahim Mohammadi, 41, had a reputation for being aggressive before the death of 80-year-old Lea Adri-Soejoko, the Old Bailey heard.
Celso Gomez told of an "hour-long" dispute with Mr Mohammadi at Colindale allotments in north London in 2012.
Mr Mohammadi denies murdering Ms Adri-Soejoko in February last year.
Mr Gomez saw the defendant at the allotments on the day Mrs Adri-Soejoko was killed, he said.
He also recounted an incident in 2012 when he cut across Mr Mohammadi's plot to visit a friend and go to the toilet by a stream that ran through the site.
"This man came out of his shed as I walked across his plot, saying I was looking through his window. He was drunk and started pushing me," Mr Gomez told jurors.
"He started shouting at me that he was going to kill me. This incident lasted about an hour."
Cross-examining, Tyrone Smith QC said: "You realise some people do not like it when other people start walking on their plot. Many people regard it as bad manners if you do not ask someone if you can walk on their plot.
"Around this time had there been reports of thefts from the allotments?"
Mr Gomez agreed.
The court heard how Iranian Mr Mohammadi was a patient of Freedom from Torture, an organisation helping torture victims suffering from post-traumatic stress disorder through horticulture and psychotherapy.
In September 2016, he had a run-in with Mrs Adri-Soejoko and called her a "bloody old witch" during an outburst at the allotment association's annual general meeting, jurors heard.
The prosecution has claimed he beat her up on the afternoon of February 27 last year and then strangled her with a lawnmower flex to stop her from reporting him.
Her body was discovered in the locked mower shed on the allotment after her family became concerned.
The trial continues.