Celine Dookhran: Accused 'had WhatsApp row with wife'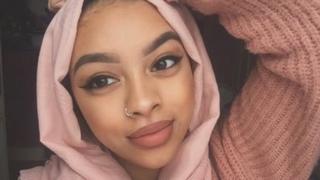 A builder who raped and slashed the throat of his niece before "stuffing" her inside a freezer had a WhatsApp row with his wife while on the run from police, a court heard.
Mujahid Arshid, 33, denies the rape and murder of 20-year-old Celine Dookhran.
The court heard that during the messaging app exchange, his wife told him: "You're dead to me", to which he replied: "So is Celine apparently."
Ms Dookhran was found on 19 July 2017 in a house in south-west London.
The message exchange was read out at the Old Bailey by prosecutor Crispin Aylett QC as he outlined the case against the defendant.
Mr Arshid is also accused of raping and trying to kill another woman in her 20s who cannot be identified for legal reasons.
He enlisted the help of labourer Vincent Tappu, 28, to kidnap both women and bundle them bound and gagged into the boot of his pick-up truck, before driving them to a six-bedroom house he was renovating, the court was told.
The surviving woman escaped and led police to Ms Dookhran's bloodied body at the empty house.
Mr Aylett QC told the court how officers used a crowbar to open a chest-height freezer at the property between Wimbledon and Kingston and discovered "several toes poking out" from underneath a dust sheet.
He said Ms Dookhran was found "face down" in the freezer at an "awkward angle consistent with her having been stuffed inside", her arms covered in blood.
'Sexually fixated'
"Her body was extremely cold" and she had "obviously [been] dead for some time," Mr Aylett told the court.
The court heard Mr Arshid was "sexually fixated" with both women and spent weeks planning his attacks.
He and co-defendant Mr Tappu both deny the kidnap of Ms Dookhran and the second woman, conspiracy to falsely imprison them both, and possessing a firearm with intent, namely a Taser.
Mr Tappu is accused of assisting in the initial kidnap, but is not said to have travelled to Kingston.
Mr Arshid, of no fixed address, is further charged with sexual assault and assault by penetration against the second female.
The trial continues.