Celine Dookhran case: Woman texts mother 'he's going to kill me'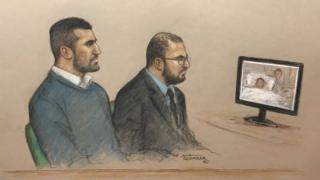 A woman texted her mother "he's going to kill me" in a desperate bid to raise the alarm over an attack by a man who abused her as a child, a court heard.
Mujahid Arshid, 33, is on trial accused of the kidnap, rape and murder of his niece Celine Dookhran, 20, and the attempted murder of a second woman.
Jurors were told the survivor was sexually abused by Mr Arshid as a teen.
At the time, a relative discouraged her from telling the police, the Old Bailey heard. Mr Arshid denies all charges.
The court previously heard that police found Ms Dookhran's body "stuffed" inside a chest-high freezer in an empty house in Kingston, south London in July 2017.
Both women had been taken there by Mr Arshid, who had become "sexually fixated" with them and planned his attack for months, jurors were told.
The second woman managed to convince Mr Arshid not to kill her by telling him she loved him and the two of them could run away together.
She told jurors: "When eventually I got hold of a phone, my first instinct was to call someone for help."
She texted her boyfriend from an old mobile phone, saying: "Don't message or call. Or reply. I have been kid booed (typo). Kidnapped." before messaging her mother: "He's going to kill me. Don't reply," the court heard.
The woman said she spent a week in St George's Hospital and had two operations, as she recovered from knife wounds.
Abuse was 'normal'
In a video interview with police shown to the jury, the woman - who cannot be identified - described how Mr Arshid told her the weekly abuse was "normal" but she knew it "wasn't right".
When she opened up about it in her late teens, Mr Arshid dismissed her claims as lies, and called her a "whore and a slut", jurors heard.
The woman said one relative warned her against going to the police because people from the "the community" would find out and "would look at you in a bad way".
Mr Arshid, of no fixed address, and his alleged accomplice Vincent Tappu, 28, of Spencer Road, Acton, west London, both deny the kidnap of Ms Dookhran and the second woman, conspiracy to falsely imprison them both, and possessing a firearm with intent, namely a Taser.
Mr Arshid denies murder, attempted murder, rape of both women and the previous sexual assault and assault by penetration of the surviving woman when she was about 13.
The trial continues.