Woman racially abused and assaulted on Tube train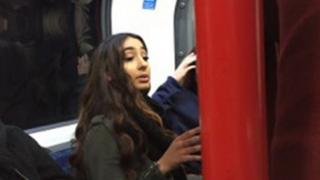 A mother was racially abused and assaulted on a Tube train by a woman who also threatened to have her children kidnapped.
British Transport Police said the assault took place on the Central Line at 18:30 GMT on 28 December.
The victim asked the woman, who was seated opposite, to stop swearing as she had three small children with her.
Police said the woman then became aggressive and kicked the mother in the stomach before getting off the train.
An image of the assailant - who has not yet been identified - has been released in a bid to find her.
The assault took place after the mother, aged in her 30s, and her children, aged between two and five, got on the train at Oxford Circus station.
'Aggressive and disgraceful'
Police said the woman became aggressive and racially abusive, shouting at the children and threatening to kidnap them in a 20-minute "torrent of verbal abuse".
When the victim got up to challenge the woman she was kicked in the stomach. The woman then left the train at Mile End station in east London.
PC Alom Uddin said "This was an utterly awful experience for the woman and her children, who were all terrified by the woman's aggressive and disgraceful actions.
"We will never tolerate hate crime on the rail network and are working hard to identify the person responsible."
A passenger captured a picture of the woman, who had long, wavy, dark brown hair, and wore a dark green jacket and grey trousers.