Isaiah Haastrup's father banned from hospital again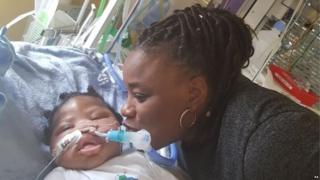 A man is appealing against a second ban from the hospital where his brain-damaged baby son is being treated.
Lanre Haastrup said he had "done nothing wrong" and that 12-month-old Isaiah Haastrup could die within days.
King's College Hospital said it wanted to maintain a calm atmosphere in Isaiah's unit.
At a separate High Court hearing on Wednesday, Mr Haastrup asked to appeal against a decision to stop his son's life-support treatment.
Mr Haastrup is fighting against the ruling which allowed doctors to halt Isaiah's life-support.
He thinks he has new evidence of treatments which could help his son.
'Irreparably damaged'
Three judges will deliver a ruling on Mr Haastrup's appeal on Friday.
In a separate hearing about his ban from King's College Hospital, lawyers indicated concerns about Mr Haastrup's behaviour.
Mr Haastrup from Peckham, south-east London, told Mr Justice Newton he had been notified of the ban in a letter earlier this week.
"I have a right to see my son," he said.
"If he dies without me seeing him I would be irreparably damaged.
"I just had a conversation. Certain people seem not to want to hear what I have to say," he added.
Mr Haastrup was first banned from the hospital late last year.
The ban was lifted after he agreed to visit at certain hours accompanied by security staff, but it has now been re-imposed, he said.
Barrister Fiona Paterson, who is leading the hospital's legal team, said bosses were trying to deal with the issue in a "humane way" while maintaining a calm atmosphere.
She said the ban would be temporarily relaxed so Mr Haastrup could attend a meeting with doctors on Thursday.
The judge is due to analyse evidence at a further hearing on Thursday.