Funeral held for Hayes death crash teenagers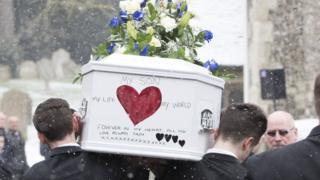 The funeral of two teenage boys, who were killed by a drunk driver as they walked to a birthday party, has taken place.
Harry Rice, 17, and Josh McGuinness, 16, died when they were hit by speeding driver Jaynesh Chudasama in Hayes, west London on 26 January.
Chudasama, who lost control of his car as he overtook another vehicle, has admitted killing the teens.
The third victim, George Wilkinson, 16, had already been buried.
Hundreds of mourners gathered in the boys' home village of Harefield, north west London, lining the snow-blanketed grounds as two white coffins were unloaded and carried inside.
Labourer Josh and footballer Harry were brought to St Mary's Church on Wednesday, towed in white and glass carriages by horses adorned with blue feathers.
One coffin was emblazoned with the words: "My son, my life, my world. Forever in my heart, all my love, always Mum."
Columns of friends and family filed into the service, led by the Reverend Martin Davies, to the song He Ain't Heavy, He's My Brother by The Hollies, followed by prayers, hymns and speeches.
'Hardest thing you could ever do'
Harry's father Ian Rice said of the support: "It's overwhelming, it's pulled me through actually.
"(Burying a loved one) is the hardest thing you could ever do.
"It's bad enough when you lose someone in your family, but when you lose your own child, it's horrific. Harry was such a nice guy, very quiet, very funny, just like Josh."
Josh's sister Melissa Blackwell, 27, added: "They were just so lovely, a pair of jokers. That's what everyone's missing the most - the laughter.
"Talking to his friends makes you feel like he's here - I feel like I see him standing in front of me."
Order of services for both teens, who attended Harefield academy, were filled with photo collages documenting their short lives.
Harry and Josh were killed alongside apprentice electrician friend George Wilkinson, 16, on January 26.
Jaynesh Chudasama, of Hayes, west London, has admitted three counts of causing death by dangerous driving at the Old Bailey.
He will be sentenced on 9 March.