CPS confirms no charges after Alexia Walenkaki death review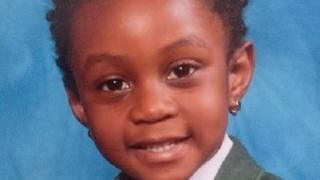 A decision not to bring charges after a girl died in a park has been upheld by the Crown Prosecution Service (CPS).
Five-year-old Alexia Walenkaki was playing on a rope swing in Mile End Park on 17 July 2015 when a tree trunk holding the swing fell on her.
The CPS previously said it would be carrying out a fresh review into Tower Hamlets Council following a request from Alexia's mother.
The report backed the lack of sufficient evidence for any charges.
Alexia went into cardiac arrest and died in hospital about an hour after the equipment she was playing on collapsed.
The girl's mother Vida Kwotuah requested the review after the original decision was made not to prosecute the council due to "insufficient evidence".
She claimed the authority's annual inspection of the park had not taken place for almost two years.
Following a review of the original charging decision, a CPS spokesperson said: "Another lawyer in CPS's Special Crime Division, who had no involvement in the original decision, carried out the review.
"The second lawyer came to the same conclusion - that no criminal charges for manslaughter should be brought against any individual or organisation as there was insufficient evidence.
"Our sympathy remains with Alexia's family for their tragic loss."
An inquest into Alexia's death will begin in May.
Tower Hamlets Council said it would be inappropriate to comment "while coroner's proceedings are ongoing".