'Drunk and high' driver jailed over Croydon fatal crash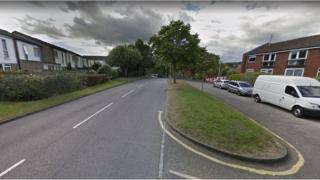 A man who took cocaine and drank nine pints of beer before fatally crashing his car into a group of schoolchildren has been jailed for 10 years.
Stuart Abbs, 39, pleaded guilty to causing death by dangerous driving over the crash on 2 July 2017 at 01.20 BST.
Abbs was driving twice the speed limit before he hit seven teenagers walking back from a birthday party in Croydon. Nicole Davis, 16, died at the scene.
He was also banned from driving for nine years at the Old Bailey on Monday.
Six other teenagers suffered injuries in the crash, some of them life-changing, the court heard.
Abbs fled the scene but handed himself in later that morning.
He tested tested positive for cocaine but the delay meant precise alcohol and drug readings could not be taken.
CCTV showed he had drunk at least nine pints of lager in three pubs on the night of the crash. Abbs told the court he was an alcoholic and would "get the shakes" if he did not drink.
Witnesses described Abbs' car as being in the middle of the road before the crash.
Forensic tests showed the car was driving at 55mph in a 30mph zone.
Abbs also pleaded guilty to three counts of causing serious injury by dangerous driving and failing to report an accident.