Parsons Green stabbing: Omid Saidy died after 'chasing drug dealers'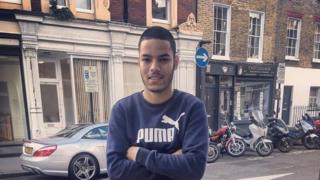 A 20-year-old man was stabbed to death for confronting suspected drug dealers outside his home, a court has heard.
Omid Saidy chased two males from outside his house near Parsons Green in south-west London and was knifed in the neck, the Old Bailey was told.
He went after the suspected dealers with his friend Oluwafemi Omotosho, who was on a moped.
Shafiq Smith, 19, and a 17-year-old, who cannot be named, both deny Mr Saidy's murder.
Mr Smith also denies the attempted murder of Mr Omotosho, also known as Femi.
Prosecutor Timothy Cray told the jury the police investigation suggested the victims as well as the defendants were carrying knives on the evening of Monday 16 October, 2017.
"Should they have chased the defendants? Absolutely not, dealing with drug dealers is the work of the police and the events show how quickly violence can spread if individuals try and take the law into their own hands", he said.
"But did Omid need to die for the mistakes he made and did Femi need to be stabbed in the chest when he was lying on the ground?
"Those are the sort of very specific questions you'll need to focus on as you approach the evidence and reach your decisions."
CCTV footage played to the court showed Mr Saidy initially walking after the defendants as Mr Omotosho rode along on his moped.
A fight involving Mr Saidy, Mr Omotosho and the defendants took place under a railway bridge - not covered by CCTV - on Parsons Green Lane near the Tube station, Mr Cray said.
Mr Saidy was stabbed in the neck and pronounced dead at 20:30 that night. Mr Omotosho was stabbed while lying on the ground after falling off his moped but survived.
The defendants were 18 and 16 respectively at the time of the killing last year, the jury was told.
Mr Smith, of Laitwood Road in Wandsworth, and the 17-year-old, of Shildon in Durham, deny all the charges.