Developers to pay £2m 'Grenfell-style' cladding bill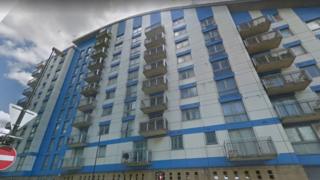 Developers of a high-rise block in south London will pay millions to replace "Grenfell-style" cladding, the Government has said.
Citiscape in Croydon was one of 228 buildings to fail safety tests after the disaster, which claimed 71 lives.
A tribunal had ruled in March that leaseholders would have to foot the £2m bill.
However, Barratt Developments has said it will pay for backdated and future fire safety costs.
Leaseholders were told of the decision at a residents association meeting on Thursday night.
Housing Secretary Sajid Javid commended the company's announcement.
A spokesman for Barratt Developments said: "Citiscape was built in line with all building regulations in place at the time of construction.
"We don't own the building, or have any liability for the cladding.
"The important thing now is ensuring that owners and residents have peace of mind."
Mr Javid said the company had "done the right thing" and listened to the concerns of residents.
He said: "Other building owners and housebuilders in the private sector should follow the example set by Barratt Developments to protect leaseholders from costs and begin essential fire safety works.
"I want to see all leaseholders in this position get the peace of mind they deserve and I am keeping this under review."
Since June fire wardens have been monitoring the two blocks full-time at a cost of £4,000 a week, by February a bill of £128,000 had been run up as a result.