Blind man's London Tube experiences highlight badge scheme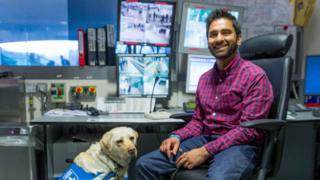 Problems faced by a blind man when travelling with his guide dog on the Tube are being used to highlight a campaign by Transport for London (TfL).
Dr Amit Patel, who previously fitted Kika with a camera to record evidence of discrimination, is making announcements on the Tube this week.
They are part of "Priority Seating Week" to mark a year since TfL launched "Please offer me a seat" badges for people with hidden health problems.
So far, 30,000 badges have been issued.
Dr Patel, said: "I'm really pleased to see TfL proactively raising awareness about priority seating.
"Travelling with a disability, whether hidden or not can be challenging, scary and sometimes even disorienting.
"Not everyone has the confidence to ask for a seat and not everyone will always be wearing a badge either.
"I would urge my fellow commuters to be more conscious of those around them when travelling, particularly if you're sat in a priority seat, and please be brave, be kind, and offer it to someone who looks like they might appreciate it."
TfL said the scheme was created in response to comments from its customers, who struggled to get a seat because their need was not obvious.
There is no set definition of conditions that qualify for the badge and card, but TfL says the system will be based on trust - as with the existing "Baby on board" badge scheme.
The initiative has been praised by charities including Anxiety UK, whose chief executive Nicky Lidbetter said that travelling can often become a challenge for people suffering from anxiety.
Paul Howard, of Lupus UK, also backed the scheme and said: "The most common symptoms of lupus are extreme fatigue and joint pains, but these symptoms are not visible and most people with lupus can look perfectly healthy."