Council bids to save Salford historic court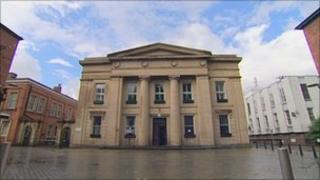 A bid to stop the closure of Salford Magistrates' Court - and preserve the city's judicial history - is being presented to the government.
HM Courts Service wants to close the Grade II-listed building at Bexley Square and move cases to Manchester.
It is part of government plans to close 103 magistrates' courts, and 54 county courts, in England and Wales.
But Salford City Council has formulated alternative plans to save the building, which it argues would cost less.
HM Courts Service said the court was under capacity and has proposed that all magistrates' hearings, and county court hearings, be moved to the Manchester Justice Centre.
In a formal response to the proposal, Salford City Council said this would create the largest magistrates' court in England with about 550 magistrates and six district judges.
Its report says there had been a court in the city for 1,000 years and argues that Salford magistrates are busier than "90% of the court on the at risk list".
Under its plan, the building would be repaired and all the hearings - including county court cases - carried out in one section, freeing up other parts of the historic building for other uses to raise rent income.
Deputy council leader Dave Lancaster said: "This is not just us saying we want to keep a 1,000-year-old tradition or that we don't want to become the only city in the country without its own magistrate's court.
"We are saying keeping the court in Salford is better for the administration of local justice and better for the taxpayer's purse.
"In the current economic climate, we can't realistically expect a new court building in Eccles and this is the next best option for the city."
A delegation from the city is presenting the submission to the Ministry of Justice later.
Also facing closure in Greater Manchester are Rochdale Magistrates' Court, Salford County Court and Bury County Court.
Outlining the closure plans in June, the government said the closures would save at least £15m a year in running costs, plus an extra £22m in maintaining the buildings.