Ricky Hatton cocaine allegations: police to investigate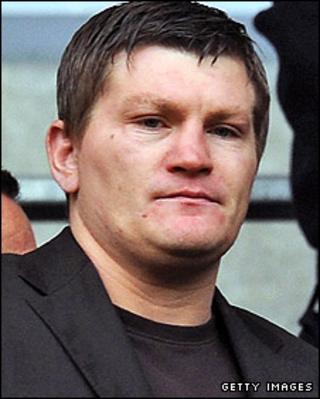 Boxer Ricky Hatton will be investigated by police over allegations he snorted cocaine in a Manchester hotel room.
The former light welterweight world champion was secretly filmed apparently taking the class A drug during a night out with one of his friends.
Greater Manchester Police said it was aware of the News of the World story and officers planned to question him.
Mr Hatton, 31, is currently in a rehabilitation clinic and is said to be suffering from depression.
A police spokesman said: "Police in Trafford are aware of the allegations made against Mr Hatton and are looking into the matter.
"Greater Manchester Police acknowledges that Mr Hatton has voluntarily entered rehabilitation and the force will respect his privacy.
Made MBE
"Once his rehabilitation has been completed, officers will be speaking to Mr Hatton about the allegations."
Hatton beat Tony Pep to win the WBU light-welterweight title in May 2001 and added the IBF crown by memorably stopping champion Kostya Tszyu in 2005.
He successfully moved up to welterweight, taking the WBA crown, but was outclassed by Floyd Mayweather in 2007 before being floored three times inside two rounds by Pacquiao.
The boxer, who was made an MBE in 2007, has not fought since May 2009.
However, he told the BBC at the beginning of September, before the cocaine allegations, that he "would never say never" to a return to boxing.
"After hanging the gloves up the next big thing might be to produce a champion rather then be a champion.
"But, yes I have I have renewed my licence in case I think, come on let's have another go.
"Probably not at the minute because you have to have fire in your belly for this game but you can never say never.
"When I announced I was going to make a comeback I went into a training camp, but it just wasn't the same.
"The alarm clock was going off in the morning and it was all too easy to press the snooze button."
He said he was forging a career in boxing promotion and had many talented fighters at his academy.