Manchester leaders bid to stop Iran family deportation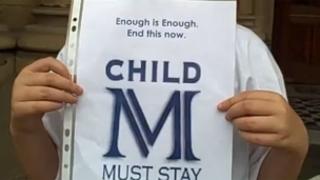 Political leaders in Manchester have written to the immigration minister in a bid to halt the deportation of a 10-year-old boy to Iran.
The boy, known as Child M, faces removal along with his family after losing a bid for a judicial review.
His mother Farah Ghaemi, 45, is accused by Iranian authorities of making copies of The Satanic Verses and claims she faces imprisonment and torture.
Damian Green is being urged to grant them leave to remain in the city.
Sir Richard Leese, leader of the Labour-controlled Manchester City Council, and his Liberal Democrat opponent Simon Ashley have written a joint letter to Mr Green.
In it, they said returning the Ghaemi family to Iran would place them in an "intolerably vulnerable and dangerous situation".
Community benefit
"The Ghaemi family are well regarded in the area that they live and over 5,000 members of the community have signed petitions asking for the family not to be deported," the letter said.
"With these concerns in mind, we strongly believe that the fairest decision would be to keep the family together here in England and ask you to consider granting them leave to remain for their benefit, the benefit of the local community, for wider efforts towards community cohesion."
The family, who live in Gorton, also have the support of their local constituency MP, Sir Gerald Kaufman, who last week raised their case in the Commons.
Child M's supporters say he has attended counselling sessions since January 2010, partially as a result of trauma from twice being detained at Yarl's Wood immigration removal centre.
His lawyers' latest bid for a judicial review was rejected by a judge at the High Court in Manchester on Wednesday.
Campaign spokeswoman Katy Rosario said: "The situation for Child M and his family is now desperate. We are deeply worried about the physical and mental health of the family."
No-one from the Home Office could be reached for comment on Saturday.