Bury councillor apologises over royal parasite remark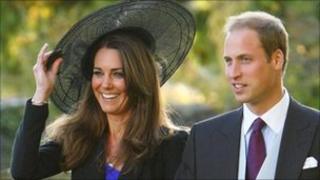 A senior councillor in Greater Manchester has apologised after calling Prince William and Kate Middleton "multi-millionaire parasites".
Councillor Mike Connolly, who is the leader of Bury Council's Labour group, made the comments on Facebook.
He was responding to a status update by a party member, congratulating the couple on their engagement.
"In this age of ConDem austerity will these multi-millionaire parasites be paying for their own wedding?" he said.
Today, Mr Connolly said: "I regret what I said and I apologise for the phrase I used."
"Local people and hard-working families have to pay for their own weddings and I hope that Prince William and Kate Middleton do just that."
The leader of Bury Liberal Democrats, councillor Tim Pickstone, said he had written to the leader of the Labour Party, Ed Miliband, and his deputy Harriet Harman, asking them to take action over the comments.
He wrote on his website: "Councillor Connolly is, of course, entitled to his own views, but as a civic leader in our Borough, it's certainly my opinion that these sort of views are highly inappropriate."
Clarence House announced on Tuesday that the couple had become engaged while on holiday in Kenya in October.
They are due to marry next spring or summer. The date and venue are yet to be announced.