Greater Manchester Police give criminals Christmas cards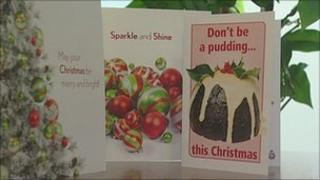 Convicted robbers, burglars and thieves in Greater Manchester will receive hand delivered Christmas cards from police, warning them to stay out of trouble.
The cards, with a Christmas pudding and the words, "Don't be a pudding this Christmas", will be given to people who are on parole.
They will be hand delivered as part of regular bail and curfew checks.
Assistant Chief Constable Terry Sweeney said the run up to Christmas can be a "challenging time" for offenders.
"They receive support from us, the probation service and other partners to make a new life for themselves away from crime but this time of year can put extra pressure on them to return to their old ways to fund their own Christmas celebrations," he said.
"These cards serve as a light-hearted and timely warning that officers can use to reiterate to offenders what they are risking by straying from the straight and narrow.
"They are left in no doubt that returning to crime means returning to prison."