Heinz workers at Wigan factory vote to strike over pay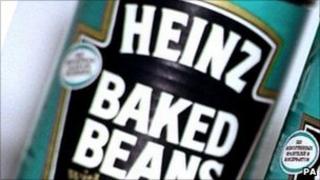 Workers at the Heinz Baked Beans factory in Wigan have voted to go on strike in a row over pay.
Unite said its members backed industrial action by 9-1 in protest at a below inflation offer of 3.3%.
About 1,200 people are employed at the Greater Manchester factory, which produces beans, soups, pasta meals and baby food.
The union said it would hold a mass meeting on Saturday to decide its next move.
National officer Jennie Formby said: "This ballot result reflects what our members feel about Heinz's current attitude.
"Our members do not want to take strike action but have been left with no choice because they will not allow Heinz management to bully or fool its workforce into accepting its version of a 'fair' pay deal."
She added: "Workers at the factory feel completely let down by Heinz management.
"They want the opportunity to voice their anger at the way they are being treated and strike action will make the company listen."