Trafford Council to cut 150 jobs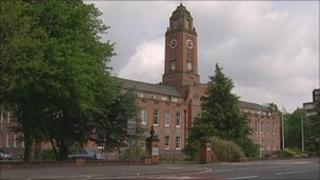 Trafford Council has said it has to cut 150 jobs in its drive to save £60m over four years.
Managers believe they will have to save £17m in 2011/12 - the first stage in a four-year savings plan.
Losses will be felt in all departments and staff under threat are being consulted, the council says.
Councillor Matt Colledge, Conservative leader of Trafford Council, said the authority was not sure how many cuts would be compulsory.
Councillor Colledge said: "Obviously with a large staff of 3,500 there will be people who may well be thinking of moving or want to retire, so we need to understand what everybody's position is before we start talking about compulsory redundancies."
'Unfortunate timing'
He added that compulsory redundancies were "the last point we want to go to".
But union leaders said staff were shocked at the news.
Paul McDermott, of Unison, said: "Job losses announced before Christmas isn't good for anybody.
"Although people were aware job cuts were on the way, the timing is unfortunate."