Woman forced into prostitution describes abuse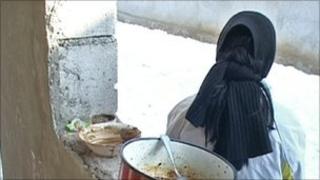 A father and son have been convicted of trafficking women into England and forcing them to work as prostitutes.
Romanians Bogdan and Marius Nejloveanu promised the women homes and jobs but instead beat and degraded them.
BBC News spoke to one of their victims, now back at home in Romania, about the ordeal which she says ruined her family.
Roxana thought Marius Nejloveanu was offering her a way out of poverty.
The 21-year-old lives in one of Romania's most impoverished regions and had never left her village before.
But the money she was promised she could earn in England would put electricity in her family's home.
In mid 2008 Roxana was taken to Paris, but her passport and identification were taken away.
She was then driven to Birmingham and told that rather than the jobs she thought she would find, she must work as a prostitute.
Beaten and raped
She did not even know where she was when she was forced to work in filthy flats and brothels.
Roxana (not her real name) said: "Marius said to us, 'You'll do exactly as my other women are doing'.
"I asked him, 'Why? You said in Romania we would earn 1,000 euros a month working in a restaurant'."
When Roxana refused, she was beaten and raped. Marius controlled who she could see, where she could go and what and when she could eat.
"He was beating us every day. And he did to us what the clients were doing to us," she said.
"We stayed there for two, three, four months. I felt bad, awful. I was praying to God, day and night."
Back in Romania, her mother was calling Marius and his father, Bogdan, desperate for news of her daughter.
"They told her to say she was alright. She said she was OK and she was working," her mother told the BBC.
"They said she'd come back home and send money and everything would be alright."
But what money she earned was taken by the Nejloveanus. The violence escalated - she was threatened with a knife and thrown down stairs.
"My back was black and blue," she said. "The police took me to the hospital. Marius didn't take me to the hospital."
'Break from poverty'
Rescue eventually came after another victim was found in one of the Manchester brothels in October that year.
The former manager of the Shangri-La massage parlour in Openshaw told police he thought one of the women working there was being coerced. That woman led officers to Birmingham.
When Roxana was found, she did not know what country she was in. She had only the clothes she was wearing.
Now back home, she has no job. Her family believe the Nejloveaunus have destroyed their lives.
"We wanted a clean break from poverty, we wanted to work and break free from poverty," her sister told the BBC.
"But this man, Marius, has ruined us all."