Wounded soldiers prepare for polar trek in Norway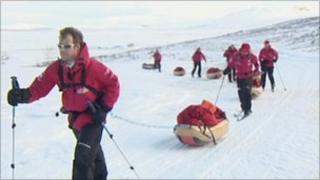 Out of the white wilderness comes a line of scarlet-clad figures pulling heavy sledges across the snow.
This is the Walking with the Wounded Polar Team training in Norway.
Among them are four British soldiers who have suffered amputations or paralysis as a result of being wounded in battle.
In March, they hope to trek 300 nautical miles (345 miles, 555km) across the Arctic sea ice to the geographic North Pole.
One of the four is Capt Martin Hewitt, 29, from Wilmslow, who was injured while serving with the Parachute Regiment in Afghanistan.
Paralysed arm
In August 2007, he was leading an assault on an enemy position when he was shot in the shoulder and the foot.
He was left paralysed in his right arm and has to wear several layers of special Merino wool to keep it insulated from the cold.
He may not be able to use it but Capt Hewitt can still feel things with his arm, which is just as well.
"On the trip, it's essential to be able to feel the cold as a warning against frostbite," he said.
Capt Hewitt grew up in Widnes and, before gaining his commission, studied at the University of Salford.
Despite his injuries and undergoing 13 operations, he is still a serving soldier and also captain of the Combined Services Disabled Ski Team.
"When I got shot, my mum would have wished for me to take up a 9 to 5 job and play tiddlywinks perhaps, instead of racing downhill as fast as I possibly can and walking to the North Pole in my spare time," he said.
"But she knows what I'm like."
'Fear and elation'
The four soldiers taking part in Walking with the Wounded were chosen from 100 who applied and include two amputees.
Each man must haul 100kg (220lb) sledges across steep ridges of broken sea ice in temperatures as low as -40C.
During the four week trek, they are due to eat three times their normal calorie intake but should still lose weight.
Their guide is Inge Solheim from Norway, whose job is to prepare the men both physically and mentally so they can cope when the lows hit.
"They'll feel homesickness and fear as well as elation," he said.
But Martin and his colleagues are not just doing this to test themselves in one of the world's harshest environments.
They're hoping to raise £2m for charity to pay for the education and re-training of wounded servicemen and women trying to get back into work.
The team plans to set off for the North Pole from north of Siberia at the end of March.