Disciplinary action over baby Alex Sutherland's death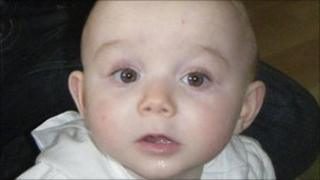 Two social workers are facing disciplinary action following the death of a 13-month-old boy in Manchester.
Two other staff are having to work under supervision following the death of Alex Sutherland who had been left in front of a gas fire for three days.
His neglect was "preventable and predictable", a review by Manchester Safeguarding Children's Board found.
Alex's binge-drinking mother Tracey, 39, was jailed for 27 months in April after admitting child cruelty.
The baby's badly charred body was found at his home in Baguley, Wythenshawe, early on 10 November 2009, after his mother dialled 999 and told an operator she had a dead baby in her house.
'Could have done better'
He was also covered in faeces and had unexplained injuries on his body.
A post-mortem examination could not establish a cause of death.
A serious case review into Alex's death found no single agency was to blame for failing to protect him but his case was "poorly managed throughout".
Manchester City Council said it had carried out an extensive programme of training with care workers to try to learn lessons from the death.
Mike Livingstone, the council's deputy director of children's services, said: "As part of the serious case review process we have scrutinised every aspect of our involvement with Alex and his family.
"It is clear from this that there are areas where we could have done better, and as a result four members of staff have been subject to disciplinary investigations.
"Two of the staff members (social workers) are now being brought before formal disciplinary hearings, and the other two staff - while not facing formal disciplinary hearings - are now subject to management instruction and oversight of their work."
The review found that social services had received calls from an anonymous person expressing concern about Sutherland and Alex.
A health visitor tried to arrange to meet Sutherland but she re-arranged the appointment. Alex was found dead a few days later.
Police had been called to Sutherland's home when Alex was three weeks old, and found her drunk and him in front of the gas fire.
The baby was briefly taken out of her care but returned to her after social workers ruled the likelihood of significant harm was low.
Alex was subject to a Child in Need plan until June 2009 when Sutherland was judged to be able to offer a "good enough" standard of care, "despite a lack of evidence of progress", the review found.
It also found she had missed health appointments, that Alex's weight had plummeted and there were concerns about her alcohol use.
The review added it was of "particular concern" that 17 expressions of concern from members of the public failed to trigger a reconsideration of initial assessments of Alex's care, despite agencies knowing of Sutherland's alcohol misuse.