Wigan woman jailed for stiletto blinding attack in club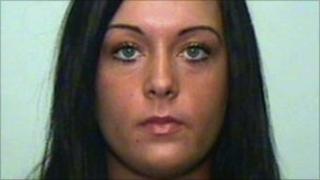 A teenager who blinded a woman in one eye by stamping on her face while wearing stiletto heels has been jailed.
Amy Smith, 18, of Bolton Road, Ashton-in-Makerfield, attacked Joanne Brown on the dance floor of the Pada Lounge in Wigan, Greater Manchester, in May 2009.
She was left blind in her left eye and has no feeling in her left cheek.
Smith, who is expecting a baby next month, admitted wounding and was sentenced to 33 months detention at Liverpool Crown Court.
Judge Ian Trigger spoke in court of his anger at problems caused by binge drinking.
"Our town and city centres are becoming for decent, law-abiding people no-go areas and the sole reason for that is the consumption by young people, women as well as men, of excessive quantities of alcohol," he said.
'Extremely regrettable'
"This is fuelled by the ready access of alcohol at places such as the Pada Lounge, Wigan, which I am told remains open over the weekend until 6am.
"It beggars belief that local authorities permit venues such as that to remain open until the hour of day when people are starting to get up."
In response, a Wigan Council spokesperson said the town had "no history of incidents like this dreadful attack".
He said: "We recognise that government have allowed extended opening hours across the whole country. and in Wigan we have responded to that by working extremely closely with police and business owners.
"The council cannot limit these opening hours without a request from the police or similar.
"Despite all the precautions taken, we cannot practically prevent this kind appalling and extremely regrettable incident from occurring."
On sentencing, the judge said he had taken into account Smith's guilty plea to wounding, her age and the fact her son is due to be born in a month's time.