Making the 2011 Census make sense in Trafford Park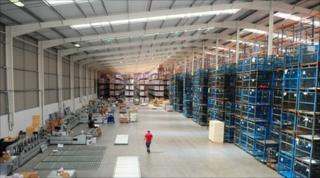 In a warehouse on the edge of Manchester, a hidden army of people is poised for a once-in-a-decade event.
Data experts UK Data Capture has assembled a 1,300-strong team in Trafford Park to process the 2011 Census - the ten-yearly snapshot of the country.
In the days that follow Census Day on 27 March, up to 26m households across England and Wales will return their forms, both on paper and online, in what will be Europe's biggest postbag.
And it is UK Data Capture's job to make the census make sense.
"It really does feel like a coiled spring ready to go into action," said company director Stephen Meyler.
"We are expecting somewhere in the region of 19m paper questionnaires to be returned via Royal Mail to our centre in Manchester.
"That's a lot of paper."
Each 32-page questionnaire, whether on paper or online, will be sent to a state-of-the-art processing centre in Trafford Park, the size of four football pitches.
"It's an immense undertaking," said Mr Meyler.
"Our job is to capture all that information the public have entered on their questionnaires in a secure fashion and get it into a form that the Office for National Statistics (ONS) can use."
Guillotine machines
On the peak day, the centre is expecting something like 37 articulated lorries to arrive laden with forms.
Once unloaded, special guillotine machines will slice open the envelopes before ten high speed scanners photograph the pages at a rate of 14,000 pages per hour.
But not all the work is automated.
UK Data Capture has taken on hundreds of Manchester's long-term unemployed for this special task, many of whom will leave with an NVQ Level One qualification in business administration and warehouse management.
A 300-strong team of "keyers" will read snippets of information too difficult for the scanners to pick up.
Meanwhile, a separate team of 250 "hand coders" will interpret ambiguous entries regarding occupation, address, ethnicity and socio-cultural grouping.
But why choose Manchester?
Glen Watson, director of the 2011 Census, said there were four main factors.
"We needed a site which obviously was big enough, had good transport links, the ability to recruit a good workforce in the locality and support from the community and local authority," he said.
In addition to UK Data Capture staff, Manchester-based BSS are operating a census helpline employing up to 450 people. And 3M in Chadderton are doing a lot of the printing.
"It wasn't really planned that way but Manchester has turned out to be something of a census hub," he said.
'Pretty confident'
In 2001, the census had a 94% return rate.
Mr Watson said that with better questions, the option to complete and return the form online and translations in 56 different languages, he was "pretty confident" of matching that level in 2011.
"The vast majority of people will fill in their census questionnaires because they know how important the census is to their local community.
"But for those who don't, or who need reminding or who need assistance we've got a field force of 35,000 people to knock on doors and help them."
After four years in the planning, Mr Watson said the 2011 Census was now on the home straight.
"The census provides a snapshot of the nation at a single point in time and holds up a mirror to us and how we live now," he said.
"I sometimes liken the census to the Olympics; you only get one chance to get it right. And I'm sure we will."