Cannabis plants seized by police in east Manchester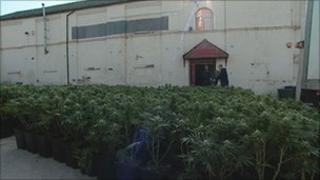 More than 1,000 cannabis plants have been uncovered by police at an empty industrial unit in east Manchester.
Officers who searched the unit on Hillkirk Street, Beswick, found 1,473 plants with an estimated street value of more than half a million pounds.
More than 100 bags of compost and 50 gallons (227 litres) of plant fertiliser were also found.
A 26-year-old man was arrested on suspicion of cultivating cannabis and is being questioned.
Greater Manchester Police intends to apply for a forfeiture order for the compost and fertiliser to allow them to donate it to a local landscaping project.
Insp Kevin Taylor said: "We are working hard to target offenders and those involved in criminal activity and today's recovery is a great reflection of the dedication and determination of the officers of North Manchester whose aim is to make our communities a better and safer place to live."
"As an added bonus we are hoping to be able to give the compost and fertiliser back to the community by way of a thank you for the intelligence that led to today's action."