Calls for Irlam gas blast inquiry to be stepped up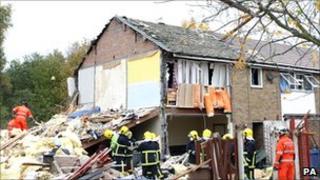 A man who rescued a woman and child after a gas explosion near Manchester has called for the investigation into what went wrong to be stepped up.
Three homes were flattened and 20 homes damaged when a cooker exploded in Merlin Road, Irlam, on 2 November.
The Health and Safety Executive (HSE) said the findings of its investigation were "not imminent".
Vinny Jones, 31, who was praised for his actions on the day of the blast, said the delay was "unacceptable".
Mr Jones and his wife Victoria are still waiting to return to their home seven doors down from the site of the blast.
The father-of-two said he would "not be happy" if it took over a year to get the findings of the investigation.
"I don't see how it can take that long - it's not rocket science," he said.
'Not imminent'
Mr Jones was described as "a hero" after he rescued a mother and baby trapped in the upstairs bedroom of one of the damaged houses.
"At the moment, until we get the report, nobody can put this to bed," he said.
"You can see it dragging on and on and on and before you know it, it's a year down the line and everyone's forgotten about it.
"I want to know as soon as possible what caused it."
The HSE said it was not possible to say when the Irlam investigation would conclude but similar in depth inquiries had taken years.
"Materials taken from the site are being analysed by specialists at the national health and safety laboratory in Buxton," said a spokesman.
"We are also assessing evidence collected in witness statements following the incident.
"We will decide at the end of the investigation whether any enforcement action is necessary."
Of the 205 households evacuated in the wake of the blast, 189 have so far been rehoused or allowed to return.
According to City West Housing Trust, the 16 remaining households have now all been given return dates before the end of April.