Shop front destroyed by hit-and-run lorry in Wigan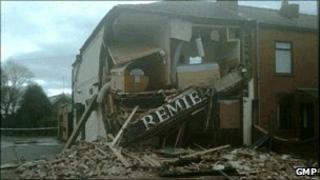 A shop front in Wigan was destroyed after a lorry was deliberately driven into the building three times.
Greater Manchester Police (GMP) were called to reports of the vehicle crashing into the building on Poolstock Lane on Sunday morning.
Police are continuing to hunt the driver, who left the scene and abandoned the lorry nearby.
The building was declared unsafe after sustaining a substantial amount of damage, but no-one was injured.
Road closures were put in place while police investigated but have now been lifted.
Sgt Peter Clarke, from the Wigan Neighbourhood Policing Team, said: "Luckily no-one was inside the building at the time this incident occurred, but the shop has been left with extensive damage to the front.
"We are keen to hear from anyone who may have seen the driver of this lorry in the Poolstock Lane area of Wigan on Sunday morning, or who witnessed the lorry being abandoned nearby on Elliott Drive shortly afterwards.
"We are carrying out inquiries in the area and will be speaking to local residents and businesses, so please come and speak to your local officers if you have any information."