A guide inside Manchester's new music: Making it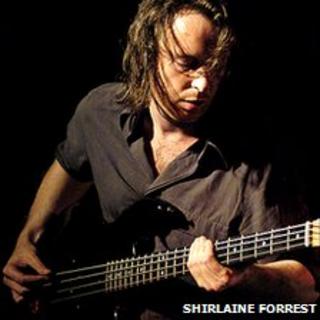 It may be the drummer quitting again, an unscrupulous promoter's money-grabbing or a well-timed heckle that pierces the goodwill of the audience.
Any of these could result in vows of leaving the band and getting 'proper jobs'.
After all, the ending ought to be drenched in glory, not in the lukewarm contents of a pint glass.
So what makes a struggling band keep going and is it worth it?
An expert opinion
As a musician, Pete Jobson hasn't only been there and bought the shirt, he's designed, printed and flogged them too.
As bass player in I Am Kloot, he has experienced the highs - and many lows - of forming a band in Manchester.
He knows the truth beyond the initial excitement and what it is like to soldier on through the tough beginnings to fame and recognition a decade later.
"I came to Manchester because I'd seen John Cooper Clarke on one of Tony Wilson's programmes.
"I came to meet musicians and was advised to go down to Night And Day; I bumped into Johnny [Bramwell, Kloot's singer], who'd just started working there."
"Johnny and I knew all the ins and outs - the sound engineers, how to put a gig on, making posters, contacting radio - and we thought, let's try and make music.
"We used what we'd learnt to put a band together."
'A review almost every week'
As a young band trying to be heard, surrounded by many others, the cash-strapped Kloot had to be resourceful.
"We put posters up around town - one was a very provocative lyric of John's: 'There's blood on your leg, I love you'.
"I was printing posters for the blood donor campaign and I used left-over red ink to print posters with that lyric - just that, nothing else.
"It freaked people out - there were letters in the paper - but it intrigued people.
"We recorded two singles on Guy Garvey's tape recorder, borrowed money and had them pressed up on vinyl.
"We got a review almost every week in the NME - it was hype.
"We'd still not played in Manchester then; people were asking us if we knew who this band Kloot were."
Sound familiar? Compare this with the acres of coverage devoted to Manchester's anonymous stars of now, Wu Lyf, of whom many stories have been written on few facts.
'The five songs that define you'
For Pete, there is one rule that all new bands need to adhere to.
"This is crucial - you want to show your cards and then get lost.
"If you're doing well: get off the stage.
"If you're doing badly: get off the stage.
"A new band should never, ever play more than 25 minutes.
"Do the five songs that define you and then get off, leaving them wanting more."
Pete speaks carefully and his words are punctuated with bright ideas, home truths and withering assessments.
He visibly deflates, however, while remembering the crushing silence that followed their attempts at self-promotion.
"You send things out, wanting a response - and you never hear anything back.
"I thought 'why is no-one listening?'
"We realised that, without a recommendation, they'll never listen.
"But as soon as we met someone who was into what we were doing, the whole atmosphere was different and people started to listen.
"That works all the way through the music industry - a recommendation is a massive deal.
"So when you meet someone who's into what you're doing, you'll find a two-way traffic of ideas.
"It's like a blinding light - all the things you were anxious about disappear."
'Be self-sufficient'
Pete's advice for survival in the cut-throat music business is simple; in the beginning, only rely on yourself.
"Before you get involved with any external people, you need to be self-sufficient.
"We shared anything equally and we all had defined roles.
"Johnny could have kept all the song-writing money, but we split everything three ways.
"There was no way later on we'd be playing gigs together if Johnny was earning ten times as much.
"That's why bands break up."
The ethos boils down to 'work hard, be smart and trust the people who believe in you', something Pete is keen to underline.
"Rock and roll isn't reality - the reality is being sat in the van, on the road, for ages.
"But if you plug away, you'll get somewhere, or you'll learn something at least.
"For me, the most exciting bit was at the start, but then ten years later - getting nominated for the Mercury, I'm proud of that.
"And like I said to our booking agent - we'll get another five years out of this now."