Manchester cemetery gets grant to be community resource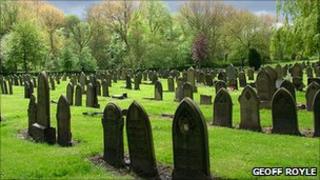 Manchester's oldest municipal cemetery is to be spruced up, following an award of £50,000 to the Friends of Philips Park Cemetery.
The cemetery had fallen into disrepair and the Big Lottery Fund grant will help the group's work in restoring it.
The 45-acre Grade II listed burial ground in Bradford was originally laid out by unemployed cotton mill workers.
In its early history, a flood disinterred several bodies and carried them down the River Medlock.
Opening as a municipal cemetery in 1866, Philips Park catered for Anglicans, Roman Catholics and non-conformists, with a Jewish section added later on.
But like many Victorian cemeteries, Philips Park Cemetery was also a place for the living, somewhere to promenade on a Sunday.
As a result, the cemetery's design was decided by open competition, with the Manchester Corporation owners choosing architects Paull and Ayliffe's plans for the buildings and William Gay's ideas for the grounds.
Disinterred burials
The landscaping was thrown into disarray in July 1872, when a month's rain fell in one day, raising the River Medlock by 12ft.
It flooded the cemetery, causing damage to the chapels and graves, and disinterring many of the burials, with bodies carried into the river and lost downstream.
The event was met with uproar and a brick channel was constructed to carry the river safely between the park and adjoining cemetery.
The cemetery became popular again, but as tastes changed and cheap rail journeys allowed people to travel further, it gradually dropped out of fashion.
It then suffered the same slump that hit much of inner city Manchester with the decline of traditional industry.
'Beautiful surroundings'
The Commonwealth Games in 2002 pulled the spotlight back onto the area and, with the housing developments and regeneration that followed, the focus fell back on the cemetery.
In 2009, the Friends of Philips Park Cemetery was formed with the aim of improving what it saw as 'one of a few open green spaces' in inner city Manchester.
Gail Spelman, chairwoman of the friends, said they had "a vision for the cemetery, where people can go and enjoy the beautiful surroundings, visit lost loved ones and [it can] also become a resource for the community".
As a result, they worked in conjunction with Manchester City Council and a number of other agencies, including Greater Manchester Fire and Rescue Service and the Commonwealth War Graves Commission, to try and bring back the beauty of the cemetery.
Their efforts were rewarded in 2010 with the site's first Green Flag Award from the environmental charity Keep Britain Tidy.
For Ms Spelman, it is just the start of a positive future for the cemetery, one that will continue thanks to the grant.
"We believe the park and the area deserves these improvement works and we are truly grateful for the support of the Big Lottery Fund," she said.