Work to start on first phase of Salford's £650m revamp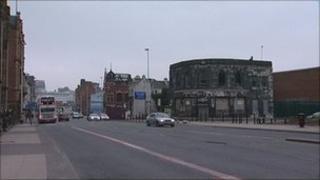 The first stage of a £650m project to regenerate an area of Salford will get under way next week.
The run-down Chapel Street area is to receive a complete revamp, which will include new housing, shops, cafes and other businesses.
The scheme, along a major commuting route into Manchester city centre, involves reducing the road to one lane in each direction for cars.
Work on the road starts on Monday. Commuters have been warned of delays.
The route will be reduced to one lane in each direction for all traffic until November. It will then be widened to incorporate one lane for all traffic and one for buses and cycles in each direction.
'Neglected for too long'
Motorists have been advised to use Liverpool Street and Regent Road.
Salford City Council expects the project to bring more than £500m of investment to the city and create 11,000 new jobs.
Councillor Derek Antrobus, of Salford City Council, said the area had been "neglected for too long".
"This is the first stage of our plan to transform this area of Salford into a new business destination for the region.
"However, it is not only business who will benefit, it will also bring a wealth of new jobs and opportunities into the city, as well as creating new homes and a safe and accessible public area for local people to enjoy."
He said he wanted Chapel Street to be "a destination, not a driving thoroughfare".
"There is already a vibrant community based in the area and we expect this to thrive with the new development.
"Salford Cathedral will be at the heart of this development and a number of other historic buildings are set to benefit."
The Chapel Street redevelopment is being carried out by the English Cities Fund, in partnership with the council.
Work on the roads and public spaces is being funded by the Northwest Regional Development Agency and the European Regional Development Fund.
The Reverend Andy Salmon, chair of the Chapel Street Regeneration Forum, said: "We need Chapel Street to be an area that works for the community as well as being a commuter route.
"While I accept in the short term this is going to be disruptive, you can't make an omelette without breaking a few eggs, and I'm sure the final outcome will be well worth it."