Father living in Manchester detained in Libya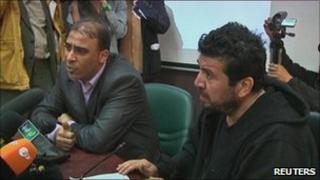 A man who has been living in Manchester has been detained in Libya by troops loyal to Colonel Gaddafi.
Salah Mohammed Ali Aboaoba was paraded before journalists after being captured in Zawiyah and said he had fundraised for an Islamic group, AFP reported.
His family said it was clear he had been forced to make a false confession.
"We are aware of the detention of a dual British-Libyan national in Libya," a Foreign and Commonwealth Office (FCO) spokesman said.
Zawiyah, in the west of the country, appeared to have returned to government control last week.
'Raised funds in UK'
Speaking through an interpreter, Mr Aboaoba said he had travelled to Libya when he had heard that foreign forces were preparing to attack the country, AFP reported.
The agency quoted him saying he had not been involved in fighting but had fundraised for the Libyan Islamic Fighting Group, declared a terrorist organisation by Britain in 2005.
He had joined the group in Yemen 14 years ago, he told reporters, but said he was not a member of al-Qaeda.
But Mr Aboaoba's daughter Ofran, of Cheetham Hill, said: "My dad is not that kind of person. Everyone knows he is peaceful. He never does that kind of thing.
She added that seeing the footage of her father was "really shocking and terrifying".
Mr Aboaoba told journalists he had gained asylum in the UK and spent 10 years in the country.
He said he continued to "raise money for the jihadist group" although he added he was not involved in any terrorist acts against the country, AFP reported.
But Mr Aboaoba's cousin, Reda Fhelboom, said: "He is not involved in any group. You can tell he was saying something he was forced to say. It was not true. He went to Libya to visit his family."
Mr Aboaoba said he used Didsbury Mosque to raise funds, the agency added. The mosque said it had never heard of him when contacted by the BBC.
The FCO said it was in touch with the Aboaoba family and was providing consular assistance.
"We've been in touch with the Turkish embassy, which is representing the country on consular issues in Libya, asking them to urgently raise this issue with Libyan authorities," the spokesman added.
"We will monitor the situation closely to make sure we take all the appropriate action."