Escaped dog tied up and killed with shotgun in Cheshire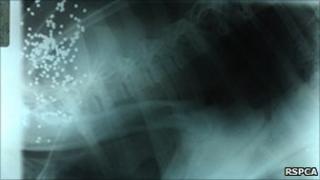 Two escaped dogs were tied to a tree and blasted with a shotgun in what the RSPCA described as a "brutal and mindless attack" in Cheshire.
One of the rottweilers, a three year-old called Belle, was found dead in a wood near Knutsford. The other - two-year old Saxon - had serious injuries.
Both were found days after escaping from the garden of their owners, who are said to be distraught.
RSPCA officers are appealing for help to trace those responsible.
Belle was found hidden in undergrowth by a blood trail between her body and a tree with a nylon rope tied around it.
'Lucky to survive'
Saxon was found seriously injured with a similar neck wound a day later on 5 March. He is currently being treated.
RSPCA inspector Anthony Joynes, investigating, said: "It just seems so callously and spitefully done.
"To sustain these injuries the animals must have been purposefully tied to a tree and shot at really close range. I can't understand what must go through someone's head to do such a thing.
"The family are absolutely distraught about what has happened.
"It's going to take months of treatment before Saxon is fit and healthy again - but considering what happened to Belle I suppose you could say he was lucky to survive."
Anyone with information is asked to contact the RSPCA.