BBC offers local apprentice scheme at MediaCityUK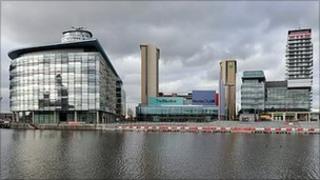 The BBC has announced that it will be offering 100 apprenticeships at the new BBC North in Salford.
The entry level scheme, which is only open to Greater Manchester applicants, will be run over four years.
It will see an annual intake of 25 apprentices across all divisions at the corporation's MediaCityUK development.
BBC North's Chief Operating Officer, Richard Deverell, said it is "a long-term initiative that will offer a real training opportunity".
The first apprentices on the scheme will join the BBC in September 2011, with all of the first 25 planned to be on site by May 2012.
'Unique initiative'
Mr Deverell said: "From the very beginning BBC North has been committed to playing a role in the future economic prosperity of the North of England.
"This new apprenticeship scheme is a unique and long-term initiative that will offer a real training opportunity in the Greater Manchester area, strengthening and enriching the creative industries across the region."
The scheme will be open to people with little or no experience or qualifications and apprentices will be in post for 12 to 18 months.
During that time, they will be mentored and coached by BBC staff, while also being encouraged to train for external qualifications.
Ken Lee, HR Director at BBC North said the scheme had been "specifically designed to attract people who would not think of a job in media or the BBC".
BBC North at MediaCityUK will be the new home of five London-based BBC departments: BBC Children's; BBC Formal Learning; parts of BBC Future Media & Technology; BBC Radio 5 Live; and BBC Sport.
Staff currently working in local and regional programming and network production at the existing BBC North building in Manchester will also be located at the new site.