Manchester student receives award for Ghanaian toilet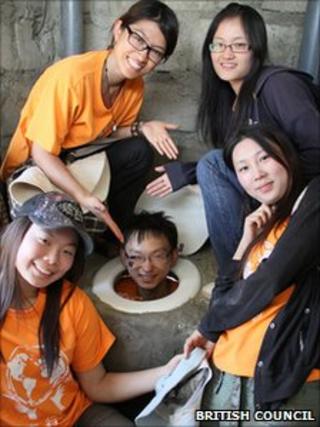 A Chinese postgraduate has been named North West International Student of the Year after giving an African village its first public toilet.
Tian Peng said she brought the toilet to the Ghanaian settlement because it was "something real and concrete" to help the locals.
Miss Peng, who is studying at the University of Manchester, won the regional title in the British Council's Shine! International Student Awards 2011.
She will now compete for the national title in April.
The British Council competition required international students to write a personal letter home about their experiences and extra-curricular activities since arriving in the UK.
Miss Peng's letter, which told of her studies, love of Manchester and not-for-profit social enterprise in Ghana, was picked as the North West winner from 1,220 entries.
The science student came up with the idea of the toilet after visiting Ghana while doing voluntary work.
She said that "there was no toilet at all in that region and people would just squat wherever they were in the fields".
"Where human contact is not kept away from human waste, many diseases can spread around.
"I did a village survey and the villagers said it would be great to have a toilet.
"So there was a need from the locals and there was the technology available."
That technology was a urine diverting dry toilet, which separates human waste and makes organic fertilizers for agriculture.
'Do something real'
Miss Peng said that when she discussed it with the locals, they "liked the idea of a toilet, especially as it was something real and concrete".
"We have a lot of volunteer activities in Africa but a lot of it is quite superficial, from my own experience.
"For example, we went and taught, showing the children Chinese food and culture.
"It's a good start because we get to know the area, but if we really want to help them, we should do something real there.
"A toilet is a toilet, it stands for at least 20 years and every day when people pass by, they know about sanitation."
Miss Peng said that the villagers were very excited by the project and had been both helpful and inquisitive during the building process.
She said that "many villagers joined to help the construction".
"When it was ready, the head of the village was so excited about it, that he rushed inside.
"We even held a big ceremony for opening the toilet."