Blackpool Marton Moss legal challenge fails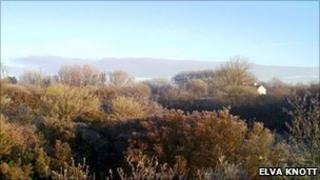 A legal challenge to plans to create a housing development at Blackpool's Marton Moss has failed.
Angelia Hinds, 57, who lives nearby, funded a challenge to Blackpool Council's decision to grant planning approval for 584 homes on the site.
She claimed that government planning policy had changed during the approval process and that it should be reconsidered by councillors.
But a judicial review found that the council had acted lawfully.
Marton Moss, which is made up of allotments, woods and pasture, was formerly agricultural land and is used by walkers, horse riders and cyclists.
Appeal decision
John Donnellon, Blackpool Council's assistant director for housing, planning and transport, said: "The Council is pleased that the way it has handled this application has been vindicated by the decision to reject the appeal.
"It has been disappointing that the housing scheme approved by the development control has not been able to progress due to this legal challenge.
"We would hope now for a swift start to the approved scheme that will provide housing on the site and support to the regeneration of the inner areas of Blackpool."
Mrs Hinds, who would not comment on the cost of her legal action, said: "I am very disappointed.
"I believe that the plans should have been put again before members of the council's development control committee, so that they could judge it under the government's new criteria for regional spatial strategies (RSS)."
When councillors first studied the plans, local councils were obliged to build a set number of houses under the then Labour government's RSS.
The coalition government has since abolished the house-building quotas and without them, Mrs Hinds believes the decision could have been different.
"They might have changed their minds," she said.
Mrs Hinds said her lawyers were in the process of requesting an appeal to the decision of the judicial review.