Oasis cousin wins Manchester Irish music competition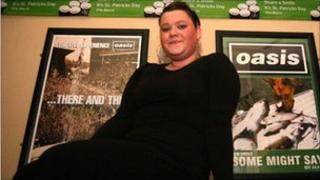 A cousin of Oasis brothers Noel and Liam Gallagher has won a singing competition in Europe's largest Irish festival in Manchester.
Rebecca Sweeney, 21, from Levenshulme, won the Irish X Factor competition staged at the Gallaghers' former local pub, The Farmer's Arms in Burnage.
The barmaid said she hoped her success would encourage cousin Liam to sing with her at next year's festival.
Liam's band 'Beady Eye' played during the first week of the 16-day festival.
'New York'
Ms Sweeney gave her winning performance in the Oasis Lounge of the pub, to which the stars have donated memorabilia.
She said: "It is great to be part of the Irish Festival.
"Liam brought his new band 'Beady Eye' to the Manchester Apollo during the opening weekend of the festival and hopefully he might get me up on stage next year.
"I had a great time, all the singers were fantastic and any one of them could have won it."
The Manchester Irish Festival which was launched by Manchester City goalkeeper Shay Given, will have staged more than 200 events in 56 venues and attracted more than 25,000 visitors by the time it finishes on Sunday.
Organiser Tony Hennigan said: "Even New York's Irish festival isn't as big as Manchester's in terms of events and duration. It might have a bigger parade, but in Manchester we still had 100,000 for our St Patrick's day parade and it just grows every year."